Archdale Street Sign Initiative
ACA Fundraiser: Own a Piece of Archdale History!
You can own a piece of Archdale history by purchasing one of our original wood street signs! The ACA is offering these on a first come-first served basis. Funds raised will contribute to our community beautification, including future landscaping efforts.
Price for Original Archdale Street Signs:
$20 donation for current 2023 ACA Members
$70 donation for non-ACA Members. Your $70 donation will activate your ACA membership for 2023!
If you are interested in purchasing a street sign, PLEASE FOLLOW THE PROCESS BELOW:
EMAIL Info@OurArchdale.com. Indicate the sign you are interested in purchasing in the email, along with your preferred contact information. We will NOT take requests through Facebook comments!
ACA will confirm if desired street sign is still available for purchase. If it is available, ACA will verify your ACA membership status to determine final price. ACA will respond to your email with the final purchase information.
If the sign is available, you can make your purchase online OR by cash or check when you pick up your sign.
ACA will notify you when sign is available for pick up!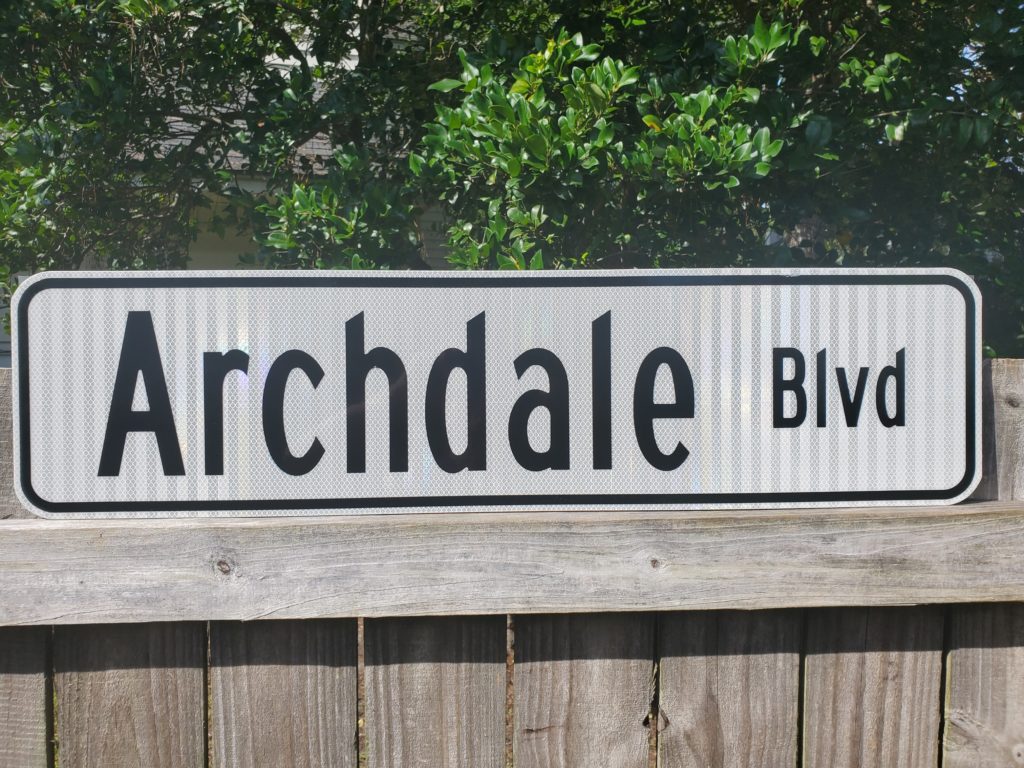 Installation January 28 - April 1 (est.)
The ACA is thrilled to announce that installation of our new Archdale street signs will begin this weekend! The Archdale Civic Association has entered into a contract with Fence Envy LLC (an Archdale-owned business!) to remove the old signs and install new ones throughout the neighborhood. The work will be conducted Saturdays – Mondays and continue through the end of March.
Sign installation work will be limited to Saturdays through Mondays, excluding holidays. Sign locations will be marked in pink tape, either on the existing sign or a wood stake if the sign location is moving for better alignment with the roadways. 811 will be called and all utilities will be marked out.  You may see temporary paint and/or flags on your grass, so we thank you for your understanding. All proper safety measures will be taken in the area where signs are being installed. We appreciate your extra caution and awareness when driving in those areas.
The Street Sign Initiative was launched at the end of 2020 with the objectives to
Inventory all signs in Archdale to understand current style and condition

Examine options for future investment to improve neighborhood aesthetics and safety
Over the course of the next 16 months, the Street Sign Committee conducted a thorough inventory and assessment of our current signs and researched options for future investments.
Their findings were presented at ACA General Meetings throughout 2021. Online presentations were made available from the website. 
In early 2022, the ACA Board made a recommendation to present the option of a 6×6 wood post (painted black) with metal street signs (white with black lettering) to the membership for a vote. The estimated price for this option was $9,000. This option was approved unanimously at the February 17 meeting.
The ACA Board is taking the next steps to determine the most efficient process for procuring necessary materials and labor for sign installation. The Board is also investigating options for signpost "sponsorship" to reduce costs.
The new Archdale signs will have the following components:
6×6 wood post, painted black
decorative wood cap, black
metal street sign, white with black lettering
L brackets, aluminum
Online Presentation Links
The inventory found multiple styles of signs throughout the neighborhood, in varying states of disrepair. More images can be seen in the Phase 1 presentation.
Donate to our Street Sign Initiative
The ACA approved up to $19,400 for street sign materials and installation costs. We are asking for donations to help offset the installation costs. We offer multiple donor levels:
Gold – $150 and above
Silver – $50 – $149
Bronze – $1 – $49
Donors will be recongized on the website (or feel free to remain anonymous!) Donations can be made in person at the ACA general meetings, by mail, or online. 
We hope you will consider supporting this initiative to help improve the safety and appeal of our neighborhood.